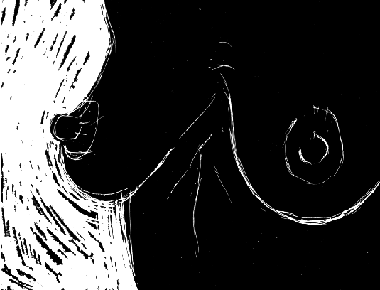 But the arrival of breasts was traumatic. A few months before they showed up I swam in the river in my cut-offs with no shirt on and nobody cared. Then the area around my nipples began to ache and swell, and my mother gently suggested I keep my shirt on. That summer I was spending a lot of time in a tree house a few blocks from home, over the wall at the back of the parking lot behind the church. One day I needed something, string or wire or a knife, and I started running home. I had to stop; my breasts hurt with every step. I couldn't run without pressing my forearms to my chest.

I was filled with an objectless fury. My breasts were making me not me (it was not me to walk, or guard my chest, or keep myself covered up). My mother and I went to a department store to shop for bras. It was humiliating even to stand there, in my tennis shoes and stinky t-shirt, waist deep in the frilly white and beige things with their arcane, embarrassing straps and clips. I would have nothing with lace, nothing with flowers. The antique saleswoman, her own bosom fused and immobile, walked right into the dressing room to confer with my mother about my size, as if my breasts were now the public provenance of all womankind. Bras made me feel like I couldn't breathe, but at least I could run without clutching my chest. I spent high school giving my shoulders sidelong glances, to see if the straps were showing, and fiddling with safety pins to keep them in. If possible, I would have no one know I wore a bra at all; it was like making a public announcement that I had breasts. I hated having breasts: dangling, ridiculous extras. I was no longer streamlined: gravity had a taunting grip on me.

I learned to draw breasts before I had any, shading them carefully, keeping an eye on all those Adams and Eves to assess my progress. No matter how well formed, they looked wrong, but it took me a while to understand why. I had forgotten about gravity. Breasts hang: the ones I drew stuck straight out at the level of the armpits, like the Playboy breasts before them. Later I saw beautiful drag queens who looked wrong in an eerily familiar way and recognized the same fault in their antigrav breasts.