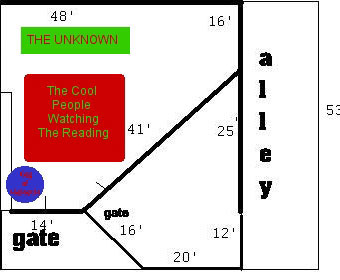 On Labor Day Mike and William had a party in Mike's new backyard.
Mike's concept: A Keg of Heineken.
William's concept: A Live Outdoor Hypertext Novel Reading.
What happened unexpectedly: Barbara Trent let us hold the Oscar she won for The Panama Deception.
We had a good time. Cynthia was there wearing black to commemorate the impending death of Dirk. Lotsa William's Urbana friends & also a bunch of graying socialists.
When Michele arrived, everybody was reading the Community Times.
There was a keg of Heineken, a puppet-making table, Paul Kotheimer taking obscure requests, Illinois Gold, socialists, artists, wanderers from the School for Designing Society, Peter Laura etcetera.
A fine party in the fortress of the Commie Compound. The newly-built backyard.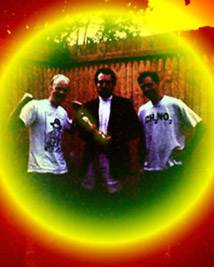 Barbara Trent was there. Michele took our picture holding Barbara's Oscar, but it was underexposed.
Barbara Trent kissed William once and Mike twice (on the cheek).
A splendid time was guaranteed for all.
There were great brownies, and all kinds of other foods. There were lots of students there, many of whom were designing new utopian societies. Most of them were from Canada. There were also lots of people involved in unions and activism. To my knowledge, no one at the party was a fascist. Everyone was very friendly. It was Labor Day.
Barbara Trent was really the one who came up with the idea of putting The Unknown in audio, as an interactive CD-ROM, for entertainment purposes. She said that we should look into financing, that she thought we could get backers.
Mike was a great host.
He looked the other way when a giant bong appeared. It floated around the periphery of the crowd and soon the periphery itself began to float.
A splendid time was indeed had by all.
PREVIOUS / NEXT