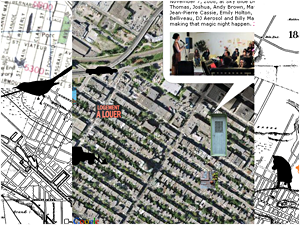 Using the Google Maps application programming interface, in absentia addresses issues of gentrification, community, and property in its commentary on the neoliberal reorganization of the city of Montreal and specifically the Mile End neighborhood. Part fiction, part memoir, the multi-lingual, multi-author texts "haunt" the neighborhood with stories of real and fictional tenants who have been affected by its structural transformation. The geocoding of these stories serves as a powerful reminder of the imbrications between lived and physical space.

Author description: in absentia is a site-specific web-based writing project which addresses issues of gentrification and its erasures in the Mile End neighborhood of Montreal, where I lived for seventeen years. Faced with imminent eviction, I began to write as if I was no longer there, about a Mile End that was no longer there. I manipulated the Google Maps API to populate "real" satellite images of my neighborhood with "fictional" characters and events. In absentia is a web "site" haunted by the stories of former residents of Mile End, a slightly fantastical world, a shared memory of the neighborhood as it never really was but as it could have been.
Instructions: Click on the icons superimposed upon the five maps.
Previous publication: in absentia was created with the support of the Canada Council for the Arts. It was presented by DARE-DARE Centre de diffusion d'art multidisciplinaire de Montréal. It launched June 24, 2008. New stories were added over the summer, in English and French. A closing party was held in conjunction with the launch of my novel, Words the Dog Knows, (conundrum press), at Sky Blue Door, November 7, 2008.
Creative Commons Attribution-NonCommercial-NoDerivs 2.5 License.