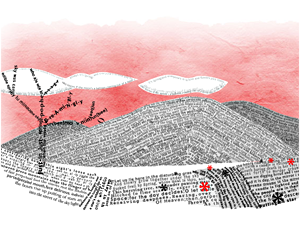 In the manner of a composer and librettist setting a classic text for an opera, Clifford deftly adapts the poetry of e.e. cummings - notorious for its visual and textual punning - to the Flash environment. The elegance of the visuals along with the evocative audio track evoke a child-like playfulness, and encourages the reader to play as well, as the interactivity is only deduced in the act of engagement. Clifford is careful with each poem of the suite she's curated, and she transports Cummings' poetry into a new hermeneutical dimension, suggesting in reverse the graphic and kinetic possibilities that are possible with the static print page.

Author description: The Sweet Old Etcetera is an interactive web project based on the poetry of e. e. Cummings. e. e. Cummings' poetry is highly visual, playful and experimental. "The Sweet Old Etcetera" interprets selected poems for a new media context and introduces additional layers of meaning through the use of motion, graphics, sound and programming. The project hopes to offer a fresh response to the print poetry, aiming to release it from the confines of the physical page and bring it into a digital environment in a playful way.
Instructions: Adobe Flash player or plugin required.
Previous publication: Published online September 2006.
Creative Commons Attribution-NonCommercial-NoDerivs 2.5 License.