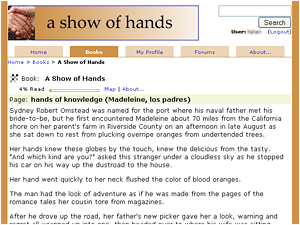 a show of hands is an adaptive hypertext narrative about U.S. immigration written in English and Spanish on the Literatronica storytelling engine designed by Juan B. Gutiérrez. Literatronica is an artificial intelligence engine that presents a narrative text in a specific way to every reader based on her previous interaction with the system. This adaptive system, which has evolved into the Global Poetic System 2 (GPS2), displays the depth and range of the reader's journey through, and consumption of, the text.

Author description: a show of hands presents the story of the sisters de la Palma as their lives draw them into the Immigration Reform marches of 2006 in Los Angeles. Out of those spontaneous political demonstrations comes a tale of a Mexican American family wrestling with love, loss, and the possibilities of political engagement. a show of hands is an evolution of the long-form hypertext genre that began with Michael Joyce's afternoon: a story. The Literatronica storytelling engine that hosts the story answers several of the "grand challenges" of literary hypertext, namely the prevalence of dead branches on the forking tree and the inability for readers to locate themselves within the content of the story. In contrast, Literatronica adapts around the reader's choices, rearranging the content so the reader will always encounter all of the text in an order optimized for narrative coherence.
Instructions: a show of hands is a generative hypertext narrative and requires an internet connection.
Previous publication: a show of hands first appeared on literatronica in 2008.
Creative Commons Attribution-NonCommercial-NoDerivs 2.5 License.