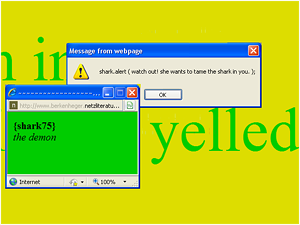 Accessible only with a Microsoft browser, The Bubble Bath ironically reflects on proprietary software and the creative and political potential of hacktivism and cultural borrowing. Readers using other operating systems are presented with this message: "The Bubble Bath is set in the eye of the occupying power called Microsoft. It is therefore indispensable to use camouflage, i.e. PC and Internet Explorer." Once she accesses the text, the reader/bather is asked to reduce her protection level against viruses, in other words to risk herself in order to read. The Bubble Bath pushes the reader towards a double bath, the "bubble bath" of the story but also a "reading bath" where, in fact, she can only have the illusion of control.

Author description: By clicking your way through a hypertext, you have the freedom of choice, or so many readers tend to believe. For those free spirits, The Bubble Bath has been built as an educational training camp that knows only one goal: to make the readers learn to love the fact that it is not they who drive the text; rather it is the text that is pulling them through the story by means of cheap tricks, false cursors, empty promises, invisible windows, and bad-mannered javascript codes that keep producing almost uncontrollable events. Netscape does not permit codes like these, nor does Opera or Apple systems; it is only Microsoft that conditions the online reading experience in such a fashion.
Instructions: Microsoft Internet Explorer required; will not work with other browsers.
Previous publication: The Bubble Bath was published on the HERMENEIA website and was the winner of the "Ciutat de Vinaròs Digital Literature Award" in 2005.
Creative Commons Attribution-NonCommercial-NoDerivs 2.5 License.