1. What is "Hypertext"?
2. What are the Richards Criteria?

3. Who are you?
4. What is the Popular Interpretation?
5. And the Texas/Bush School?
•
6. Can you summarize the Technosexual Reading?
7. How about the Richards Posttranssexual Rereading?

8. What's the story with the fan fiction and the double murder?
9. Who am I?
6. Can you summarize the Technosexual Reading?
Following Hilton Allrich's tragic, tumescent death and the subsequent "disappearance" of Alan Richardson, the suave, goateed, black-attired academic superstar Richard Allman warmly embraced the Popular Interpretation. He also warmly embraced its deviser, Ellen Richards. Professor Allman finagled for Richards a guest lectureship in Modern Thought and Literature at Stanford and, soon after, began dating her.
The attraction was mutual and quickly became intimate. Records confirm that Richards quietly changed departments to Creative Writing, where Allman had no appointment or supervisory capacity, evidently to steer clear of the university's sexual harassment policy.
Students recall Richards holding class outside on sunny Northern California days, pulling her ponytail through the back of the cardinal-red Stanford baseball cap worn to shade her pale, freckly complexion.
She was also known for peppering discussions with the language of "Hypertext," telling students to doubt the PR-type hype about this or that author, or to look up a website per http; holding up a visual aid with the instruction to Peer here; telling an attractive biology major with an interest in plants that she was a pretty tree expert; and so on.
Once when a student named Eliot Thomas asked to go to the bathroom during class, she waved him down the hall with Hey ET, thee pee there!
You'd think that the jokes would've grown stale for Richards, but for her Stanford students, listening for words from the poem became a kind of game, and they compared tallies and posted results in online discussions, blogs, and instant messages.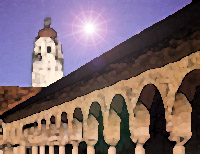 At first Richards and Allman were inseparable. Heads touching, they ate sandwiches together in the Quad, shared chopsticks at Palo Alto sushi bars. Hand in hand, they brought students to see Fritz Lang's 1927 film Metropolis and the 2002 San Francisco revival of Hedwig and the Angry Inch. Intertwined, they reread Kafka, Freud, and Haraway, read aloud The Letters of Abelard and Heloise between sections of The New York Times on lazy Sundays. Postcoitally, like a combination Julia Child/Iron Chef, Richards fed Allman's taste for gourmet seafood with pickled anemone and peppered blowfish.
Abruptly, after six months, the affair ended.
Shortly thereafter, Allman published "The Crossdressing Cyborg: A Technosexual Reading of 'Hypertext'" in the journal Technopoetics.
Allman reread "Hypertext" as a sex-change narrative and conservative, even reactionary, meditation on technologized gender and sexuality. As Allman tells the story, the poet, via the virtual community of crossdressers in Web chatrooms and blogs (Per HTTP pretext), meets a Perth rep or sales manager for Western Australia with the initials ET.
Internet-based clubs arrange real-space gatherings where closet crossdressers can strut their stuff (Peer here: Eye thy eyer). Extrapolating from the text—and possibly plagiarizing from the fan fiction (FAQ #8)—Allman reconstructed a transvestite gathering at the upscale Half Moon Bay Schlitz-Marlboro Resort south of San Francisco:
After weeks of online anticipation, "Alan Richardson" and "Eric Taylor" (ET), the two newbie crossdressers, have their mutual coming-out party in the Schlitz-Marlboro Eucalyptus Room, overlooking a slate-gray sea on an overcast Northern California evening.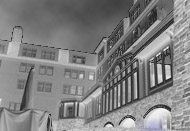 .
Richardson is ravishing if a bit June Cleaverish in a flipped wig and flouncy dress with appliqué, pearls and high heels; the much taller Taylor is titillating in his spaghetti strap top with fringed skirt and fishnet stockings. Both are energized and empowered by the general repartee, group support, and fashion tips.
Another initiation for Taylor and Richardson is their first trip to the ladies' room (Hey ET, thee pee there), where "Erica" jokes with "Ellen" about estrogen therapy changing the acidity of urine (pH three). Afterwards, both gents—even more aroused by their public performance than by years of wearing women's underwear in private—rush back to their respective rooms to masturbate (pet yer petter).
Allman thus unpacked Stanza 1 as a comment on the relationship between male orgasm and urination, "the two functions that cannot occur together because they both require the single-lane urethra, hence also the two functions that must be rerouted by gender reassignment surgery."
Indeed in Stanza 2 and Stanza 3, as opposed to real life where only a handful of transvestites become transsexuals, the poet moves briskly from panties to penectomy. Foregrounded is the phallic image of Hetty as pretty tree, her Medusa-like snake-limbs threatening castration and alluding to Hedwig, whose "angry inch" is the dysfunctional pubic mound left from a botched sex-change operation. The metamorphosis of Pere Peter or "Father Penis" reemphasizes the poet's ambivalence about the medical transsexual industry, said Allman, with its
...crack surgical teams eager to carve a vaginal vault below your prostate, line it with the inverted skin flap of your filleted pecker, convert your glans penis into a sensate neo-clitoris (how realistic!), fashion labial folds and clitoral hooding from your de-balled scrotum (that soft wrinkly tissue the perfect disguise), and finally to connect your sigmoid colon to your new transcunt for improved mucous lubrication (ingenious, I grant).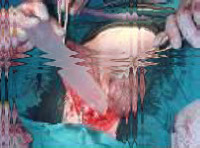 Such anxiety about genitalia permeates Ellen Richards' Popular Interpretation as well as Alan Richardson's poem, Allman reminded us, and the ultimate transformation is that of Richardson the male to Richards the female. This "witch technology" or petty hex is perfected with cosmetic enhancements including breast augmentation (Tet Rx, literally, tit prescription), tracheal shaving, electrolysis, and jawbone reduction under anesthesia (They pry teeth – ether prey).
The result of all this technological intervention—the drug therapy, the cosmetic operations, the violent sex-reassignment surgery itself—is a hybrid woman-machine or seductive technosexual cyborg. Especially if you start off with a small-boned, soft-featured male, you can turn, for example, a mousy Wall Street banker-trader into quite a fetching female poet-critic.