Rice
geniwate, with photos by Oscar Ferriero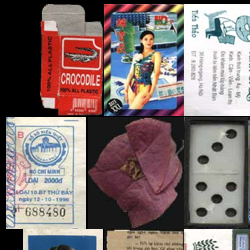 Rice, the co-winner of the 1998 trAce/AltX hypertext competition, is a series of multimedia poems about contemporary Vietnam from the point of view of a conscientious tourist. In his judge's remarks, Robert Coover described the work as "a spectacularly beautiful visual and aural experience, moving from sixteen images which constitute a kind of table of contents into sixteen very different poetic approaches to the Vietnam story."
Author description: Rice is a hypertextual anthology of poems focusing on my experience as a Western tourist in Vietnam. Issues of colonialism, war, poverty, and cultural difference arise. Technically and aesthetically, Rice belongs to an early period of web-based poetry. It uses Shockwave, popup windows, and frames.
Instructions: To hear the sound, turn on the computer's speakers or plug in headphones. Click on each image to view elements of the poem. Click the same image again to return to the collection of images.
Previous publication: Rice was developed during a residency at the Media Resource Centre, Adelaide. The project was supported by the MRC and the Australia Council, the Federal Government's arts funding and advisory body. Rice was published in 1998 and is available at the author's site, http://www.idaspoetics.com.au/.
Creative Commons Attribution-NonCommercial-NoDerivs 2.5 License.