White-Faced Bromeliads on 20 Hectares
Loss Pequeño Glazier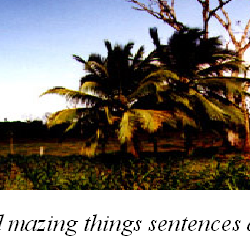 Blending Spanish and English and offering a sort of postcard prelude to each of its constantly changing stanzas, White-Faced Bromeliads on 20 Hectares is a poem that explores alternatives and crossings. From line to line the reader can enjoy the turns of phrase but then must figure out how to deal with their constantly turning nature. Options include waiting for the line that was being read to re-appear, re-starting from the beginning of the line that just appeared, or continuing from the middle of the word or phrase.
Author description: White-Faced Bromeliads on 20 Hectares is a JavaScript investigation of literary variants with a new text generated every ten seconds. Its goals are as follows. (1) To present a poetic evocation of the images, vocabulary, and sights of Costa Rica's language and natural ecosystems though poetic text and visuals. (2) To investigate the potential of literary variants. Thinking of poems where authors have vacillated between variant lines, Bromeliads offers two alternatives for each line of text thus, for an 8 line poem, offering 512 possible variants, exploring the multi-textual possibilities of literary variants. (3) It explores the richness of multiple languages. (4) It mines the possibilities of translation, code, and shifting digital textuality. Having variants regenerate every ten seconds provides poems that are not static, but dynamic; indeed one never finishes reading the same poem one began reading. This re-defines the concept of the literary object and offers a more challenging reading, both for the reader and for the writer in performance, than a static poem. The idea is to be able to read as if surfing across multiple textual possibilities. Such regeneration allows traces of different languages to overwrite each other, providing a linguistic and cultural richness.
Instructions: Click "begin" to begin. The link at the bottom leads to the next section.
Previous publication: White-Faced Bromeliads on 20 Hectares was published on Glazier's EPC page, http://epc.buffalo.edu/authors/glazier, in 1999.
Creative Commons Attribution-NonCommercial-NoDerivs 2.5 License.