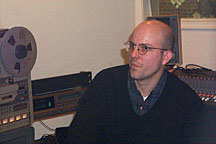 Paul Kotheimer is a real inspiration to the Unknown. We carry his music wherever we go. Many is the long hour on the Unknown road that would have turned ugly without Paul's songs, which make the time seem to pass more easily. He's a songwriter who reads books. He writes about typewriters and old cars, he writes about the frustrations of being an artist in an unforgiving cash-driven society, he writes protest songs and folk songs and country and western songs and pop songs and rock 'n'roll. He writes songs about love and hard times, he writes songs about living like a Kafka novel. He's up there alone on the stage, he's dancing like a frog, he's yanking the soul out of his acoustic guitar and throwing it around the room. He's tuning while he plays. He's telling a joke about himself, he's sipping a beer. Maybe he's in a coffee shop surrounded by a circle of old friends. Maybe he's in a fraternity bar, and everyone is ignoring him. Maybe he's in the back yard, maybe he's in the studio. He keeps playing. He's got his own record label, he's trying to make it on his own. He's trying hard to make it. Whether or not he makes it, he's making music. And the music is good. And he'll go on making it. Paul Kotheimer, Unknown.


* * * *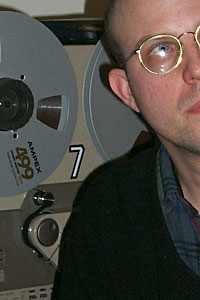 WEFT is beautiful man. WEFT is the hippie station. WEFT is a better university station than any of the university stations. WEFT is more organic than the farmer's market, more diverse than the Foreign Languages building, and rocks harder than the Poster Children. WEFT's on the left side of the radio, literally and figuratively. WEFT is love. WEFT is you, baby.

And WEFT has a show cohosted by Paul Kotheimer, the Leonardo Da Vinci of the home folk music studio. A little story about Paul: once a local songwriter told Paul that she was interested in starting a collective of local musicians. Surprised, Paul responded that he had been acting, for years, as if there already were a collective of local musicians. He helps out everywhere, often for free: WEFT, the Red Herring, the Channing Murray, people's weddings, loaning equipment, setting up PA's, playing for something, nothing, anything, nowhere somewhere anywhere, in the acoustic nightmare of local cafés, 6th and Green late Friday night, crooning to drunk jocks, singing louder than the MTD Green line, playing the WEFT sessions having his music mixed through a blender, recording the Guerilla Parlor Ensemble, helping Beezus, helping me. Hoping somebody will occasionally toss the words "thank you" into his guitar case.

That guy still hasn't paid him for his Rickenbacker bass.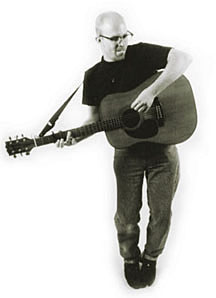 Paul's smile is bigger than the Sears Tower and when his eyes light us his glasses look the west face of the John Hancock building at sunset. He's making music and the community is immeasurably better. The stereo cities sound better as a result of his tireless assistance. Eventually he will get a record deal and maybe move to LA, get ripped off and become cynical, but we hope not. Last Saturday the weather was better than ice cream and I went to visit Paul in the sweltering smoky cavern where he was recording the new WEFT jingle. I was washwed up, my radio career was like a dinasaur that had outlived the comet, but for Paul. Special K. The celebrated Mr. Kite. Southpaw. A pal's pal. Smoother than reel-to-reel, sharper than a stylus, brighter than a laser beam, Paul Kotheimer has eleven fingers. And that's just his left hand.

You should buy his CD and make an offer on his vintage Stratocaster. You should pay him for that Richenbacker bass. Or give it back.

You should hear his songs. The songs that make me feel nostalgic for Urbana-Champaign, even though I'm still here. Songs that make me nostalgic for dogs I never had, people I never knew. Songs that read like short stories, songs that don't rhyme, songs with no chorus, songs that in no way rock. And even songs that rock hard about girls and cars. And you should hear the songs he won't let me play you. Ah, a couple beers, an upside-down 11-string, and Paul.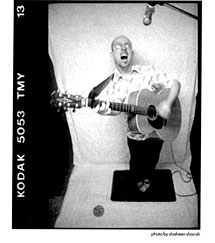 Paul's aloft among the church spires and telephone wires. The TV antennas all gleam like whitecaps upon the sea. Paul has wandered the cavernous hissing fluorescent night. If he could get on a greyhound, you know he would in a minute. Paul looks starched into his Sunday clothes. He's got a big fat black wallet full of cash when payday comes. And now he knows just what Tom Clancy would say. I'll be happy when he croons to me on VH1. My mother says he's dangerous. Paul looks at the funny pages without even a smile. He wrote this song in a minute. He feels like he's been flattened by a truck but he managed miraculously to survive. He could send me breakfast through the U.S. mail. I can't talk about it Paul, please just buy me a beer.


| | | |
| --- | --- | --- |
| 4:19 (482K Download) | Day Job | Who needs art when you got a steady-payin job? |
| 3:10 (355K Download) | Dog Heaven | Hard times is so faithful… |
| 2:22 (266K Download) | Truly Happy | It's like holy mackeral, I'm still alive… |
| 3:14 (363K Download) | Flourescent Pink Mustang | Son, do you realize how fast you were goin? |
| 3:36 (402K Download) | Noah's Pub | Oh bartender, pour me a river of whiskey… |
| 2:45 (307K Download) | The Old Car Blues | I got a 1978 LTD Station Wagon… |
| 3:19 (370K Download) | Jump That Train, Boy | Quick train's a-comin… |
| 4:46 (545K Download) | Typewriter | Gonna write myself a novel, a great American novel… |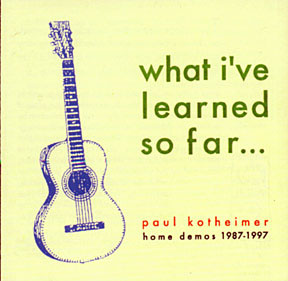 Find out more about Paul Kotheimer
And buy his CD "What I've Learned So Far"
At The Hand-Made Records Homepage